A kind hearted man from Istanbul, Turkey opened his shop to stray felines amid the most exceedingly awful weather so they could have a warm and safe place to stay.
Selcuk Bayal, the owner of a small stationery store, has been looking after local stray cats along with a few other volunteers from the neighborhood.
When the temperatures dropped to a dangerous low, he turned his shop into a refuge for the feline friends.
He feeds the kitties and cleans up the place afterwards. "When it gets cold, they take refuge inside… We are the only shop in the area," Bayal said.
Many locals praise him for his kind gesture to help these beautiful creatures. However, not everyone shares the same sentiment.
"Those who are uncomfortable with the kitties do not shop here."
He's glad to see that the kitties are being cared for and safe.
Many shoppers that support his cause, come to spend time with the kitties.
The cats love the heater and corral around it.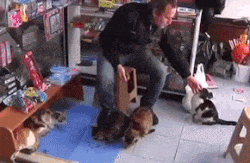 The kitties are so happy to have a warm place to stay, plenty of food to eat, and they tell Bayal and other volunteers how grateful they are every day.